Charles Regional Medical Center Gallery
The University of Maryland Charles Regional Medical Center Gallery
The Charles Regional Medical Center Gallery is located near the main entrance to the hospital, near the lobby area, 5 Garrett Avenue, La Plata, MD 20646.  It is a professional gallery space devoted to one-person shows that display approximately 15 artworks. These shows take place for three months each, and are promoted in our CCAA news publications, The Arts Insider monthly e-newsletter, the Arts Newsflash weekly e-calendar of events, and our periodic press releases. The CCAA does not charge any fees whatsoever to artists for displaying their artworks with us, nor does it charge a commission fee for any sales of artworks. All sales take place strictly between the artist and customer, and no artworks may be removed from the gallery space until the current show ends. Likewise, there is no charge for the public to view the artworks.
Charles Regional Medical Center Gallery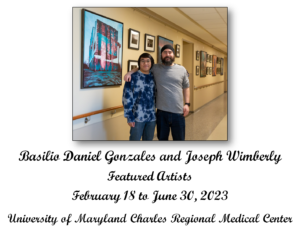 Featuring Works by Balisio Daniel Gonzales and Joe Wimberly
Gonzales and Wimberly February 18 to June 30 2023 UMCRMC
Previous Galleries:
October 17 – January 11, 2023: Florence Foster
Cecelia Dunay UMCRMC July 13 to October 12, 2022 
January 8 – April 8, 2021: Josh Owen
October 8, 2019 – January 8, 2020: Addison Likins
July 10 – October 9, 2019: Beverly Adams
April 17 – July 10, 2019: Marie Parham
January 15 – April 17, 2019: Dorothy Crown
October 10, 2018 – January 15, 2019: Bill & Suzanne Cassidy
July 6 – October 10, 2018: Gina Durgin
April – July 2018: MCAC's "Traveling Art Show"
January – April 2018: Vicki Marckel
October 2017 – January 2018: Addison Likins
July – October 2017: Renee Fuqua
April – July 2017: Theresa Alo
Winter 2016 – 2017: Sarˈdär Aziz
Spring 2015: Nick and Bob Kutchi
For more information on exhibiting artworks at this gallery in the future, please contact us!